Prior Reunions
Reunions for LaSalle 2017
Class Year
Reunion Date
Contact Person
When
More Info

1987

1983-1990

July 29, 2017
Beverly Smigielski Chapman
In 0 Days
Info
1967
July 21-22 2017
See SBAA site
In 0 Days
Info
2002
Oct 6, 2017
In 0
Info
Note: Photos for class reunions are located in the PHOTO link on the main menu bar.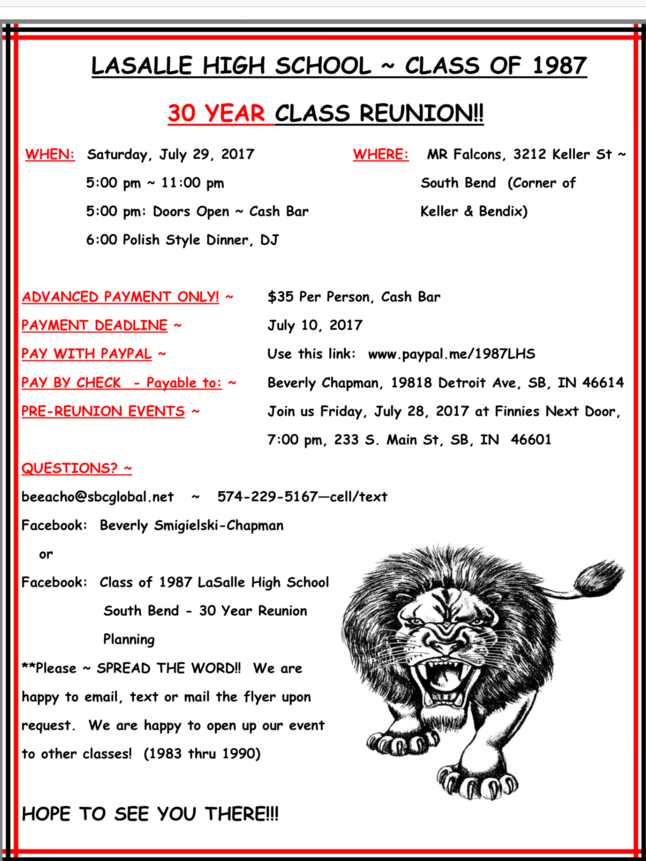 ---
LaSalle Class of 1967 Click here for a link to SBAA anouncement.
50-Year Reunion (Same as link above)
The LaSalle Class of 1967 will have its 50-year reunion July 21-22, 2017. A Friday night gathering is planned on July 21 at Corby's, on the corner of LaSalle and Niles avenues. Pizza and snacks will be provided, with a cash bar. The main event will take place Saturday, July 22, at St. Hedwig Memorial Hall on Western Avenue. A social hour will begin at 6 p.m., with dinner planned at 7. Music and dancing will continue until 11 p.m. A photographer will be taking pictures and providing a CD to everyone who attends..
The cost is $50 per person and includes appetizers, dinner, dessert, dancing, a memory book and a CD of photographs. Invitations and questionnaires will be mailed soon. Classmates who have not been located yet are:
William Ayres, Penny Jo Bennett (Walker), Otis Black, Vicky Bower, Sue Ann Campbell (Edwards), Diana Cox (Matthews), Barbara Johnson, Valerie King (Denny), John Kirkwood, Charles Langs, Calvin Maefield, Susie Major, Marilyn Manuszak, Jerry Miller, Rudolph Miller, Carmen Nichols (Hough), Lee Perkins, Susan Richards, Dennis Smith, Leslie Stephens (Wilson), Patrick Sydor, Eric Thompson, Kathleen Vavul, Betty Werntz and Audrey Wilcox.
Hello LHS Class of 2002! Can't believe it's been 15 yrs. Wow!! LaSalle's Homecoming 2017 will be on October 6th this year. We are planning to get together for the parade then afterwards to eat! We are looking at meeting up at Lauren's house in town to eat, have an inflatable for the kiddos, games, etc. We are also going to have some shirts made as well! Mark your calendars for October 6th! Go Tigers!