Reunions
LaSalle Reunions 2018
Note: Photos for class reunions are located in the PHOTO link on the main menu bar.
More information will be posted at a later date.
See Kathy Holcomb on Face Book
---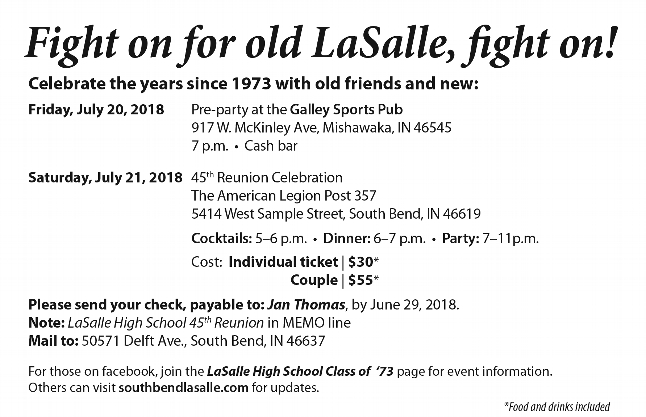 Jan Prawat home phone (574) 271-7907
Face Book page for LaSalle Class of 1973
---
The 40th class reunion will be on Saturday, August 25th, 2018 at Z.B. Falcons with doors opening at 5:30pm and dinner serving at 6:00pm.
Z.B. Falcons is located on the corner of Sheridan and Western Ave. in South Bend (323 S Sheridan, 46619).
Tickets (as wristbands) are $28 per person and must be paid in advance by 8/15/2018.
Sorry, no refunds or sales after 8/15/2018.
Wristbands will be distributed at the door along with name tags.
Price of the ticket will include:
– Polish Style Dinner (chicken, sausage, green beans w/carrots, mashed potatoes w/gravy, polish noodles, sweet-n-sour cabbage, rolls, and butter)
– Cake
– Partial Open Bar: includes beer, wine, soda, juice, coffee, and water.
– Cash Bar for hard liquor. NO LIQUOR MAY BE CARRIED IN. You risk being escorted out and your ticket price can NOT be refunded.
– DJ Music by Blue
---
---