In Memory
Fran Denise Ann White (Kennedy) - Class Of 1985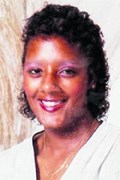 LaSalle 1985 Fran Denise Ann (White) Kennedy
March 24, 1967 - Feb. 10, 2017
SOUTH BEND - Ms. Fran Kennedy, beloved mother, grandmother, sister, aunt, and friend was called home on Friday, February 10, 2017, at the age of 49.
Fran was born on March 24, 1967, to Helen J. Smith (Kennedy) and Jessie White Jr. She was brought to South Bend, Indiana, shortly after her birth and has been a lifelong resident until the time of her departure. Fran attended South Bend Community Schools, graduating from LaSalle High School in 1985. Thereafter attending colleges such as IUSB, Ivy Tech, and National College. Fran was employed by Memorial Home Care for ten years and also worked as a Private Duty Nurse, and in additional various warehouse jobs and paint factories until her health declined.
Fran was raised up in Grace AME Zion Church, but was recently attending Olivet AME Church. She loved cooking, baking, and watching various TV shows. She always had to have her "wine" Pepsi! Fran loved her children and grandchildren, and was very big on spending time with them.
She leaves to cherish her memory two daughters, Ashley Shaw and Taira Kennedy; two sisters, Rochelle Jones and Crystal White; three brothers, Gregory Bishop of Dallas, Texas, Alvarnaz (Kathryn) Moore of Anderson, Indiana, and Typhron White; six aunts, Maxie Potts, Starkville, Mississippi, Cathy Lewis, and Elois Peaches White, both of South Bend, Indiana, Maggie (Lloyd Sr.) Kerr, Boling Brook, Illinois, Joyce White Johnson, Rochester, NY, and Delois Allen, Elgin, Illinois; one uncle, Calvin (Renee) White, Fairview, Indiana; three grandsons, D`Marco Shaw, Tobias Shaw, and Dorian Stewart; a special cousin, Thorn Lewis; special sister, Christene Shaw; and special brother, Lee Reed.
Fran was preceded in death by her parents, Helen (Willie) Smith and Jessie White Jr.; maternal grandparents, Freddie and Purvis Kennedy Sr.; paternal grandparents, Josie White and Jessie White Sr.; two sisters, Zina Bishop and Cheryl Bishop; one granddaughter, La`Raya Renee` Shaw-Swanson; and one stepbrother, Rodney . Smith.
Services for Fran Kennedy will be held at 12 noon on Friday, February 17, 2017, at Olivet AME Church, with visitation at 11:00 a.m.
Alford's Mortuary has been entrusted with arrangements. To leave an online condolence, please visit our webpage and sign the guestbook at www.alfordsmortuaryinc.com.
Published in South Bend Tribune on Feb. 15, 2017
- See more at: http://www.legacy.com/obituaries/southbendtribune/obituary.aspx?n=fran-denise-ann-kennedy&pid=184140642&fhid=8823&eid=sp_ommatch#sthash.d09Vah2a.dpuf