In Memory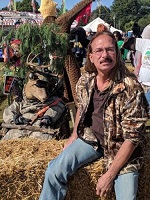 Keith Allen Botka
Jul. 8, 1959 - Aug. 17, 2023
Keith Allen Botka, 64, of South Bend, IN passed away on the morning of Thursday, August 17, 2023. Keith was born on July 8, 1959, in South Bend to John and Marilyn (Bennett) Botka. On January 4, 2002, he was united in marriage to Lisa Bittner.
Keith is survived by his loving wife, Lisa; three children, Ryan (Melissa) Bittner, Hunter Botka, and Cheyenne Botka; mother, Marilyn Botka; and sister, Kathy Botka. He was preceded in death by his father, John Botka.
Keith worked at AM General for 35 years before his retirement. In his free time, he enjoyed duck hunting and fishing. He took great pride in caring for his blue truck. He spent summers up at Baldwin Lake in Union, Michigan where he met his wife, Lisa, and raised his children. Keith was a loving husband, father and friend who will be deeply missed by all who knew him.
No services are scheduled at this time. Hahn Funeral Home is assisting the family with arrangements.
Obituary published on Legacy.com by Hahn Funeral Home on Aug. 18, 2023.
09/14/2023 DEC
https://www.legacy.com/us/obituaries/name/keith-botka-obituary?id=52727970
Click here to see Keith Allen's last Profile entry.