In Memory
Terrion D Lewis (Gary) - Class Of 1974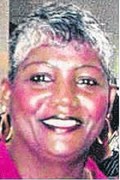 LaSalle 1974 Terrion D (Lewis) Gary
Aug. 10, 1956 - Mar. 03, 2017
South Bend. She was born on August 10, 1956 in Rayville, LA to Shirley (Gary) Lewis and Sylvester Smith, Sr; they both preceded her in death. She was raised in South Bend by her mother and stepfather, Robert Lewis; he preceded her in death on February 17, 2017. Terri graduated from LaSalle High School in 1974 and was a lifetime member of Pilgrim Baptist Church. She was a CSR at the Indiana BMV in South Bend.
Terri leaves to cherish her loving memory, one daughter, Alisha Smith; 8 grandchildren, Jayonna, Janiah, Jeffery, Jayden, Jordinn, Journei, Josiah and Jar'Eylle, all of South Bend; her stepmother, Nancy Smith of Chicago; 8 sisters, Debra (Jerald) Gant of Natchitoches, LA, Michelle Smith of Chicago, Patricia Lewis of Las Vegas, Diane Jennings and Marilyn (Kenny) Lewis all of Houston, Roberta (Joey) Vanardo of Aurora, CO, LaGatha Gary of Indianapolis, and Barbara Edwards of South Bend; 2 brothers, Lorenzo (DeAngela) Gary of Union City, TN and Sylvester Smith, Jr., of Chicago; close extended family members, Sharon Vaughn, Chris Kelly and Taseanda Rios all of South Bend. Along with her mother, father, and stepfather, Terri was also preceded in death by a sister, Nancy Shurn.
Terri's favorite and dedicated past time was spending time with her grandchildren. She also enjoyed being a part of her church activities, cooking and especially baking. She was a champion at baking chocolate chip cookies, peanut butter cookies and a dessert called gooey batter. Terri was a Christian, a listening ear, a warm and friendly smile and a friend.
Funeral Services will be held at 12:00 p.m., on Friday, March 10th at Pilgrim Baptist Church, 116 Birdsell St., South Bend; Viewing will begin at 11:00 a.m. Burial will be at Highland Cemetery.
Arrangements have been entrusted to ALFORD'S MORTUARY.
Visit our website to sign family guest book at: www.AlfordsMortuaryInc.com
-Published in South Bend Tribune on Mar. 7, 2017
- See more at: http://www.legacy.com/obituaries/southbendtribune/obituary.aspx?n=terrion-d-gary&pid=184385217&fhid=8823&eid=sp_ommatch#sthash.KupJuU0z.dpuf