In Memory
Keith Myers - Class Of 1993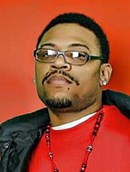 LaSalle 1993 Keith Antonio Myers
Apr. 21, 1975 - Nov. 21, 2017
SOUTH BEND - Keith Antonio Myers, 42, of South Bend, IN, died unexpectedly at 5:01 a.m. on Tuesday, November 21, 2017, from injuries sustained in a senseless act of violence.
Keith was born April 21, 1975, in Greenville, MS. Keith moved to South Bend, IN with his parents in July of 1983 and remained a resident until his untimely death. Keith attended South Bend Community Schools for his education. He worked as a lead shipping/receiving clerk at New Carbon Inc., located in South Bend. Keith recently joined FedEx where he worked part time as a shipping/receiving clerk. If Keith wasn't busy working, you could find him at Chippewa Bowl working on another 300 game, somewhere on a lake fishing, or on a golf course perfecting his golf game. Keith was passionate about many things; eating and music were the top two passions on his list outside of his family and friends. Keith's love of music brought him together with his friends, Ben Foster, Larry Watford, and Shawn Henderson, who together created the R&B singing group called Xpression. Keith loved spending time with his wife and babysitting their one-year-old granddaughter whom he loved dearly. He also loved spending time with his family and friends playing dominos, cards, cracking jokes and dancing. If you knew Keith, you know that he was a jokester and loved to talk "smack" to everyone he encountered. Keith had a heart of gold and would do anything for anyone.
Keith leaves to cherish his memories, his wife, Theresa A. Eli-Myers; four children, Marquise Myers, Devin Myers, Jasmine Wadley, and Brandon Wadley all of South Bend; his mother and father, Viola (Myers) and James Sims of South Bend; his brothers, Michael Myers, and Jerome (Gloria) Sims of South Ben, and James Sims Jr. of Indianapolis, IN; four aunts, Rosie Thornton, Emma Jefferson and Beverly Myers, all of Cleveland, OH, Debra Philips of South Bend, and Elizabeth Armstrong of Killeen, TX; two uncles, Eddie Myers (Ree) of South Bend, and Mitchell Walker of Danville, IL; two nephews, Isaiah and Michael Myers; two nieces, Alyssa Myers and Kisealla Sims; one granddaughter, McKenna Myers; a special uncle, James (Uncle Jr.) Felix of South Bend; and a host of family and friends who loved him dearly.
He was preceded in death by his brother, Kiseal Sims; his maternal grandparents, Hattie and Sidney Myers; his paternal grandparents, Steve and Mary Rollins, and Percy and Ella Sims; his aunts, Lula Jones, Annie Webster, Gloria Bonds and Betty Sims; and his uncles, Percy Sims, Eugene Sims and Ulysses Robertson.
Services for Keith will be held at 11:00 am on Saturday, December 2, 2017, at Greater St. John Missionary Baptist Church, 101 N. Adams Street, South Bend, IN. Jeffery Diggins will officiate. Graveside services and burial will follow at Mt. Pleasant Cemetery in South Bend. Friends may call on the family for visitation from 10:00 am-11:00 am on Saturday at the church prior to the service. Palmer Funeral Home-West Chapel is assisting the family with arrangements.
Online condolences for Keith's family may be left at www.palmerfuneralhomes.com.
Published in South Bend Tribune on Nov. 26, 2017
jmc 26 nov 2017