In Memory
Catherine G Harvey (Kellengerg)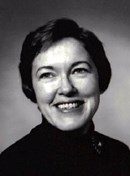 Catherine G (Harvey) Kellengerg
LaSalle (1981-1984 teacher)
June 8, 1926 - Nov. 12, 2017
NOTRE DAME - Catherine Gene (Havey) Kellenberg died November 12, 2017. She was 91. The daughter of (Catherine) Edna McMahon and Eugene Francis Havey, Mrs. Kellenberg was born June 8, 1926 in Chicago, Illinois. She earned her B.S. from Northwestern University in 1948 and her M.A. from Northwestern University in 1949 in school-based guidance and counseling. She completed coursework towards a Master of Social Work at Fordham University in 1954.
Catherine married Conrad Lawler Kellenberg, her husband of 60 years, at Sacred Heart Church, Notre Dame, IN on Sept. 10, 1955. During her professional career, she taught English and Spanish at New Trier High School in Winnetka, IL (1949-52), North Liberty High School in North Liberty, IN (1974-81), and LaSalle High School in South Bend, IN (1981-84). She retired from teaching in 1984. Catherine traveled extensively on five continents with her husband, including two extended trips throughout Africa in the 1960s. She organized and led several trips to Mexico for her Spanish students at North Liberty High School and loved the city of Cuernavaca, Mexico. She enjoyed reading, gardening, and the performance arts. In the 1980s, she was a volunteer with the South Bend Center for the Homeless and the Little Flower Parish Pastoral Council. She was also active in Call to Action USA, a progressive Catholic organization.
In addition to her parents, Mrs. Kellenberg was pre-deceased by her husband Conrad in April 2016 and her grandson Zachary Eli Neiman in September 2017. She is survived by five children, Katherine, Thomas (Olena Ftomova), Anne (Gregory True), Joan (John Callewaert), and John (Patricia Kelly); 12 grandchildren, Veronica, Elizabeth, Olivia, Natalie, Alexander, Daniel, Kateryna, Emma, Hayley, Sara, Matthew, and Niyati; two great-grandchildren, Milo and Ellie; and many nieces and nephews.
A Funeral Liturgy will be held on Saturday, December 16 at 1:30 p.m. at Our Lady of Holy Cross Chapel at Holy Cross Village in Notre Dame, IN. A private burial service will be at Cedar Grove Cemetery on the University of Notre Dame campus.