In Memory
Kathleen Lynn Frankiewicz (Sellers) - Class Of 1983
LaSalle 1983 Kathleen Lynn (Frankiewicz) Sellers
June 29, 1965 - Nov. 30, 2017
SOUTH BEND - Kathleen Lynn Sellers, 52, of South Bend, IN, passed away at 6:36 p.m. Thursday, November 30, 2017, in her home, following a brief illness.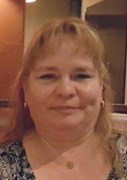 She was born on June 29, 1965, to James and Patricia (Makowski) Frankiewicz on Larson AFB, WA, and had lived in South Bend since 1974.
Kathleen graduated in 1983 from the former LaSalle High School in South Bend; and then graduated from Indiana University in 1987, where she received her Bachelor of Science in Nursing (BSN) Degree.
Kathleen worked as a Registered Nurse at St. Joseph Regional Medical Center in Mishawaka, IN, for 21 years. She was currently employed with Speedway, LLC in South Bend, IN, where she had worked for the last four years.
On April 22, 1989, as Kathleen Lynn Frankiewicz, she married Alan J. Sellers in South Bend.
Kathleen is survived by her loving husband of 28 years, Alan Sellers of South Bend, IN; her father, James Frankiewicz of Shelbyville, IN; two sons, Andrew (Katie) Sellers of South Bend, IN, Garrett Sellers of South Bend, IN; two sisters, Victoria (Greg) Martin/Smith, M.D. of Shelbyville, IN, Erin (Andrew) Snyder of South Bend, IN; and her stepfather, Bruce Kapaun of South Bend, IN.
She was preceded in death by her mother, Patricia Kapaun, and a son, Patrick Sellers.
Kathleen was a member of the Apostolic Temple Church in South Bend. She relished watching and attending Professional Tennis Matches, and enjoyed watching football.
Visitation will be from 3-8 p.m. Friday, December 8, 2017, at Kaniewski Funeral Home, 3545 N. Bendix Drive, South Bend, IN. Cremation will follow.
A Memorial Service will be held at 11:00 a.m. Saturday, December 9, 2017, at Apostolic Temple Church, 2221 S. Ironwood Drive, South Bend, IN.
To send online condolences, please visit www.kaniewski.com.
Published in South Bend Tribune on Dec. 6, 2017
jmc 6 dec 2017