In Memory
Michael David Kruk - Class Of 1996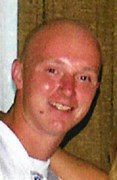 LaSalle 1996 Michael David Kruk
Sept. 28, 1978 - Jan. 05, 2018
SOUTH BEND - Michael David Kruk, 39, of South Bend, Indiana passed away at 6:25 A.M. on January 5, 2018, in his home, surrounded by his family, after a very courageous battle with Leukemia. Michael was born on September 28, 1978 to his mother Kelly. On September 14, 2005 Michael married the love of his life Lisa M. Harwood-Kruk, who he is survived by. Michael is also survived by his daughter Isabella; his mother and step father; Kelly and Robert Baldwin of Niles, Michigan; His sister Amanda (Jon) Gloster of South Bend, Indiana; his brother Ian (Mary) Kruk of South Bend, Indiana. Michael is also survived by his one nephew, Jonathon; several nieces in which Michael had many joys of being one the greatest uncles to his nieces; Jordan, Julianna, Ray Anne, and Jenna, who he was also a "very proud godfather" to her; Aunt Kristine Kruk of South Bend, Indiana; Uncle Steve Kruk of South Bend, Indiana; several cousins, Kahri Kruk of South Bend, Indiana; Jennifer Gaska and Brandy Meredith both of Florida; his Father-in-law Andrew Harwood of South Bend, Indiana; Mother-in-law Lorraine Harwood of Tampa, Florida; and Brother-in-law Matthew Harwood of South Bend, Indiana as well as a host of extended family. Michael was preceded in death by his maternal grandparents, Ja Ja and grandma, Edward and Marilyn Kruk; and by one nephew Joshua. Michael, a lifelong resident, grew up as an All-star Little League player for East Side Little League, even after hitting a "bodacious Blueberry Blast" grand slam to win the game at the Blueberry Festival one year. He was on the Jr. Bowling League at Beacon Bowl for many years and won many trophies. Michael was a phenomenal basketball player in school or even on the street. He was always found either on the basketball court or hanging with the Adam's St. boys listening to their music. Michael had a passion for music where he found a love for rap music and became good at it. Michael attended LaSalle High School and earned his Associates Degree from Purdue Northwestern in Business and Communication. He was a diehard Notre Dame and Chicago Bears Fan. He lived to see the Cubs win the World Series and even got to attend the World Series Parade in Chicago. A day he quoted "he would never forget!"
A visitation will be held from 4:00 P.M. until 8:00 P.M Thursday in Kaniewski Funeral Home, 3545 N. Bendix Drive. A Mass of Christian Burial will be celebrated at 2:00 p.m. Friday, January 12, 2018 at Holy Cross Church. Those attending the Mass Friday are welcome to come to the funeral home around 1:15 p.m. for a prayer service and to join the procession to the church.
The family requests that donations be made to Kaniewski Funeral Home to defray the funeral expenses.
The family is grateful for everyone's support along with the continued prayers. Michael will be terribly missed.
Published in South Bend Tribune on Jan. 9, 2018
jmc 9 jan 2018