In Memory
Vicki J Kaczmarek (Diol) - Class Of 1969 VIEW PROFILE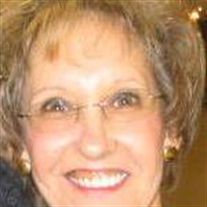 Vicki J. Diol
Vicki Diol Aug. 11, 1951 - May 2, 2015 DOWAGIAC - Vicki (Kaczmarek) Diol of Dowagiac, Michigan lost her battle to cancer on Saturday, May 2, 2015. She passed away very peacefully in her home, surrounded by her husband, children and sisters.
Vicki was 63 years old, full of life and amazing energy prior to her illness. She loved cooking, gardening, crafting, dancing, card playing, spending time at the lake, and didn't turn down an opportunity to try her luck at a slot machine from time to time. She was sweet, loyal, caring, and intelligent and she possessed an amazing work ethic. She was never afraid to try new things and was admired by many for her leadership skills.
Vicki grew up in South Bend, IN, was a graduate of LaSalle High School and earned a bachelor's degree from Ferris State University. She spent much of her career in the restaurant industry; 25 of those years were spent at The Round Oak in Dowagiac. Vicki treated people well and she saw her customers as friends rather than patrons. Many good times were shared at The Round Oak under her leadership.
Vicki also worked for Edward D. Jones, Four Winds, and she served as a substitute teacher in several school corporations in the area. She made many friendships, especially at Cass Schools, all of which meant so much to her. She was a very versatile person, always willing to assist wherever she was needed. She was precise, sharp, and it was very rare to have anything slip by her. Working was a staple in her life and she did it well.
Left to cherish her memory is her husband and love of her life, Ron Diol. Ron gave Vicki the very best of care throughout her illness, always remaining positive and kind. His love for Vicki was evident every step of the way. Vicki's children were always at her side, loving her, caring for her, and assisting with anything she needed. Their mother was their main priority and she will be greatly missed by each of her children, Christi (William) Gaideski III, Joni Danzy, TJ (Kayleigh) Balsbaugh, Anitha (Shane) Perdue, Phillip (Jennifer) Diol and Sadie the dog. Vicki deeply loved her twelve grandchildren. Her eyes lit up whenever she talked about Drue and McKenna Danzy, Lauren and Miranda Balsbaugh, Landon and Marina Perdue, Porter, Copeland, Jackson, August and Gaines Diol. Her siblings, Nick Kaczmarek, Carol (Ron) Whittaker, and Doreen (Bob) Holler loved Vicki dearly and were always a close family.
Vicki was greatly loved by her many nieces and nephews. Vicki was preceded in death by her parent, Richard and Evelyn Kaczmarek and her grandson, Cameron Danzy.
The family wishes to thank the doctors/staff at the Memorial Cancer Care Center and Hospice at Home, Inc.
The Mass of Christian Burial will be held on Friday, May 8th, 2015 at 11:30 a.m. at St. Pius X Catholic Church, 52553 Fir Road in Granger, Indiana, with a time of visitation one hour prior. A private interment will be held at Mission Hills Memorial Gardens. In lieu of flowers, memorial contributions may be made in Vicki's memory to Pet Refuge or Hospice at Home, Inc. Condolences, photos and memories may be shared with Vicki's family at www.BrownFuneralHomeNiles.com.
Arrangements have been entrusted to Brown Funeral Home & Cremation Services, Niles.
03/16/2021 DEC
Click here to see Vicki J's last Profile entry.