In Memory
Kimberly Jo Winters - Class Of 1979 VIEW PROFILE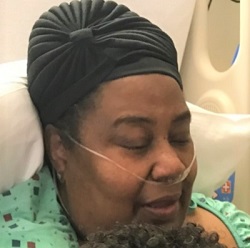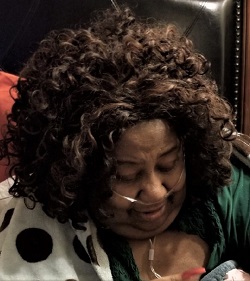 Kimberly Jo Brodnax-Winters was born on September 9, 1960 to Diane Winters-Taylor and Larry Brodnax, in South Bend, Indiana. Kim was called home to be with her Heavenly Father and to reunite with her mother, fathers, grandparents, cousins and friends on April 17, 2019 at the age of 58.
Kim attended Central High School and LaSalle High School from which she graduated in 1979. She left South Bend to attend Wilberforce University before transferring to Central State University where she earned an Associates in Early Childhood Education, a Bachelor's degree in Elementary Education, and a Master's degree in Psychology from Antioch Midwest University.
Kim accepted Christ as a child and was baptized at Grace AME Zion Church in South Bend, IN. While living in Xenia, OH, Kim was a member of The Church of God in Xenia, OH. Upon moving to Indianapolis, IN, she united with Jones Tabernacle AME Zion Church. Kim was a faithful member of Jones. She co-created an outreach program, called First Call for Women. An outreach ministry designed to facilitate women who needed to rebuild their lives. She was a true evangelist in that she shared the good news of Jesus Christ in all that she met.
An avid cook she was the hostess of Jones Tabernacle's Annual Cook Off competition as well as the Director of the Leisure Ministry.
In Kim's early years, she was known as the choir director, baby sister and Dr. Doo Little. Kim gathered all the children from the neighborhood and started a 50 plus young adult choir along with her best friend Bishop Stephen Reed at Grace AME Zion Church. Her Childhood home on Blaine Street was the hang out house. She would watch any and everybody's children in the neighborhood. She would also take in stray animals and feed the squirrels and birds her entire life.
Kim believed in serving and giving back to the community. This was a clear testament in her chosen career path. Kim was employed with the Boys and Girls Club of Dayton, Ohio. In Xenia, she founded The Kim Winters Drug Free Basketball League and Project Impact in Xenia, Ohio, and served on several committees for the City of Xenia, where she also founded the Xenia Branch of the Boys and Girls Club on the campus of the Ohio Soldiers and Sailors Orphanage (OSSO), today known as the International Headquarters of Athletes in Action. Kim was also employed with the Boys and Girls of Indianapolis, where she served as the Director of the Haughville Branch. She also served as the Director of Kumba, childcare center at Jones Tabernacle AME Zion Church.
Kim was a gifted writer, who recently published a book titled Guilty Until Proven Innocent.
Kim dearly loved her Alma Mater, Central State University, where she was an active member and past president of the Indianapolis Alumni Chapter. She recruited and sent many students to CSU including two of her own, Maurice and Ulysses, by merely packing them in the car, driving to Wilberforce and then announcing they were staying to attend college. She was currently serving as chair of the upcoming banquet for the National Off Campus Alumni conference to be held in Indianapolis this June. She lived by the motto "For God For Central For State!" and believed in Centralian Love.
Kim was also a member of the Order of Eastern Star .........
Kim's soul touched so many lives. She never, ever met a stranger. Kim loved God, her children, grandchildren, her family, her many friends, and her community wherever that might have been. Her good work, kindred spirit, and veracious battle against her health issues will long be remembered.
Kim leaves to cherish her memory, her daughter Tashira Collier, sons, Maurice Winters, Ulysses Simmons, III, William Winters, Derrick Winters, Foster children to many and brothers and sisters, Barbara Taylor, Deborah Taylor, Jacqueline Taylor Shears, Anthony Taylor, Sherri Taylor Miles, Anthony Mack, Elecia Minyon Smith, LaQuette Brodnax, Robert Brodnax, Coraty Balders, special cousin Michelle Davis, best friend Bishop Stephen Reed, Special friends Sandra Gavin, Mr.and Mrs. Dan Winston, Sr., grandchildren, Gavin Winters, Alexandria Simmons, Aurora Simmons, Cheyenne Winters and host of family and friends and extended family members.
Kim was preceded in death by her parents, Diane J. Winters-Taylor, Larry Brodnax, Othell Taylor, Brother Daryl Taylor, Grandparents Alfred Lee Winters, James Winters, Murphy and Marian Brodnax.
04/29/2019 JFC
Click here to see Kimberly Jo's last Profile entry.