In Memory
JoEllen Marble (Corpe: Walker) - Class Of 1983 VIEW PROFILE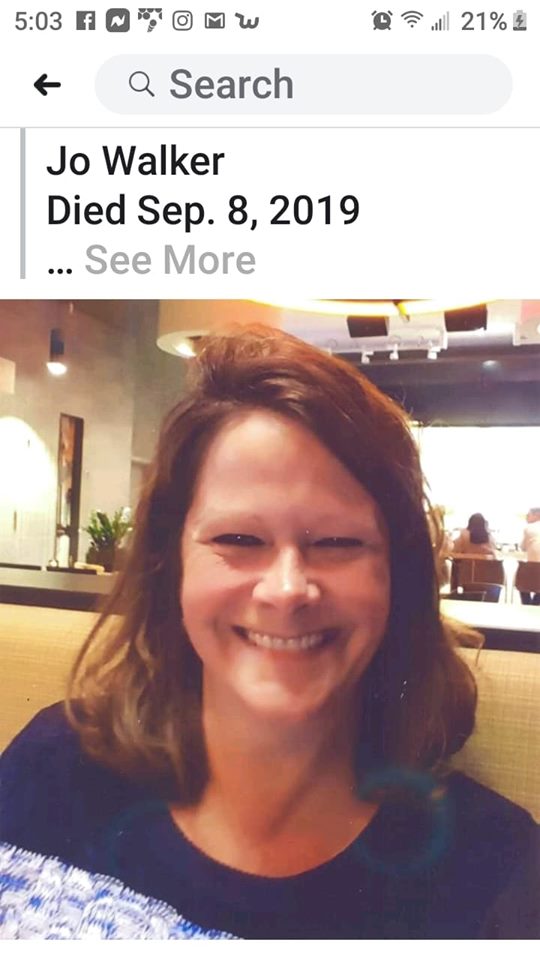 LELAND – Jo Walker, 54, of Leland, passed away Sunday, Sep. 8, 2019 at Spectrum Hospital Grand Rapids surrounded by her loving family.
Jo was born Oct. 19, 1964 in South Bend, Indiana the daughter of Richard and Mary Belle (Myers) Marble.
On June 12, 2004, preceding the Leland Wine and Food Festival; on the deck of Rick's Café at The Cove she married James A. Walker, who survives.
Jo was deeply involved in the community and gave of herself to others. She was a board member of the Fishtown Preservation Society, the League of Woman Voters Leelanau County and also their webmaster, Leelanau Christian Neighbors where she was instrumental in the founding of Blessings in a Backpack. Jo was secretary/treasurer of Birchwood Shores Preservation Association and worked closely with Leland Public Schools Bridge Connection.
She loved gardening and traveling, Jo just finished making a San Diego condo into a second home. Jo loved Lake Michigan sunsets from her home and her cars Eleanor and Eloise. She deeply loved her two dogs, Brampton and Lacey.
Jo had become an accomplished gardener; quite a long way from when Jim asked her what kind of plant she wanted, and her answer was "anything plastic"! She hated helicopter rides yet did them for and with Jim as he liked them so much.
When it came time to cook Jo had had great ideas and was an accomplished pie maker. One of her former workmates witnessed this change and asked Jim "what have you done to her?" These are just a small sampling of how they grew closer together over time becoming almost a singular unit with the sole purpose of keeping each other happy and so deeply in love.
Jo is survived by her loving husband of fifteen years, Jim; two children, Christopher Corpe, Stephanie (Todd) Allen; six grandchildren, Avery Corpe; Hailey, Kensley, Annie and Auggie Allen; two step-children, Wendy (Nick) Walker Vernon, James (Linda) Walker Jr.; and four step-grandchildren, Cayden and Garrett Vernon and Oliver and Paul Walker.
She was preceded in death by her parents.
A celebration of Jo's life will be held at 2:00 p.m. on Saturday, Sep. 14 at the Suttons Bay Congregational Church. Rev. Dr. Robin Carden will officiate.
In lieu of flowers, memorials may be directed to Fishtown Preservation Society, PO Box 721, Leland, MI 49654.
Please share condolences with Jo's family at www.martinson.info
Arrangements are with the Martinson Funeral Home and Cremation Services of Leelanau. 9-12-19
10/20/2019 JFC
Information from Doreen McClanahan Miller 10/20/2019
Click here to see JoEllen's last Profile entry.