In Memory
Michael F Wollmers - Class Of 1977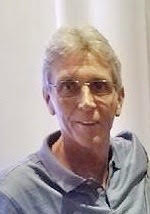 Michael F. "Wollms" Wollmers
October 31, 1959 ~ January 6, 2020 (age 60)
Michael F. "Wollms" Wollmers, 60, of South Bend passed away Monday, January 6, 2020 at home surrounded by his loving family. He was born October 31, 1959 in Fort Wayne to the late Theodore and Margerie (Goddard) Wollmers.

"Wollms" is survived by his son, Michael J. Wollmers; daughter, Colleen (Aaron) Redman; companion, Stacy Pynaert; grandson, Wyatt Redman; sister, Lisa (Paul) Liepold; brother, Theodore A. Wollmers; nieces, Karna Freeman, Amanda (Jeremy) Durham, and Melissa Wollmers; nephew, Josh Wollmers; and great-nephews, Christian Durham, Jayden Wollmers, Cole Wollmers, and Jacob Wollmers. In addition to his parents, "Wollms" was preceded in death by his sister, Karen Wollmers, brother, Joel Wollmers and best friend Robert "Bird Dog" Rodick.

"Wollms" worked for 25 years as a sales representative for 7-Up and Dr. Pepper. He loved classic rock, Motown and soul music and was a huge sports fan backing the Fighting Irish, all Chicago sports teams (but the Southside Sox were held in much higher regard than that team from the Northside), and the Oakland Raiders. He enjoyed playing softball, and was part of the South Bend Opossums baseball team and the Wander Inn basketball team in Mishawaka. He brought smiles and laughter to all those around him with his crazy sense of humor. "Wollms" lived life simply and was the type of man who would give you the shirt off his back and was always there to lend a hand. He was kind, hardworking, selfless, and all around the best dad. He will be missed by all who knew him.

A memorial service will be held on Friday, January 10, 2020 at 4 PM at Palmer Funeral Home-River Park Chapel, 2528 Mishawaka Ave, South Bend. Friends may visit with the family from 2 PM until the time of the service.

Contributions in memory of Mike may be made to the Center for Hospice Care, 111 Sunnybrook Court, South Bend IN 46637, or American Cancer Society, 130 Red Coach Dr., Mishawaka IN 46545.
01/07/2020 JFC