In Memory
Travis Jason Stevanson - Class Of 1997 VIEW PROFILE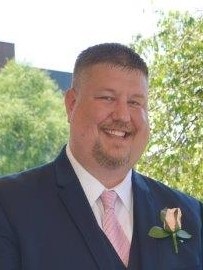 Travis Jason Stevanson, 41 years old, passed away Thursday, December 31, 2020 at his home in Mishawaka. He was born March 2, 1979 in South Bend to Thomas John and Roxanne Stevanson. On May 21, 2011 in Mishawaka, Travis married the love of his life, Paula Van Lew.
Travis was known as being a very fun-loving and people-oriented person. He absolutely adored his family and friends. Travis excelled in fatherhood and was devoted to helping his two daughters become the best persons they could be. He was very inviting, always welcoming anyone and everyone. Travis also loved sports. He loved playing golf, or watching the Bears, Notre Dame, Chicago Cubs, and Manchester United. He played basketball for many years at Corpus Christi, St. Joe High School, and LaSalle High School. Travis was the assistant coach for the JV girls basketball team at St. Joe High School with Tim Walsh.
Along with his loving wife, Paula, Travis is survived by his daughters, Taylor J. Stevanson of Mishwaka and Paige W. Stevanson of Mishawaka; parents, Earold and Roxanne Gunter of Niles, MI; and many extended family and friends. Travis is preceded in death by his father, Thomas John Stevanson.
A time to celebrate the life of Travis will be held Wednesday, January 6, 2021 from 12:00P.M.-2:00P.M. and from 4:00P.M. to 6:00P.M. at Palmer Funeral Homes-Guisinger Chapel, 3718 S. Michigan St, South Bend, IN 46614.
Online condolences may be expressed to the family at www.palmerfuneralhomes.com
01/03/2021 JFC
Click here to see Travis Jason's last Profile entry.